We Accept...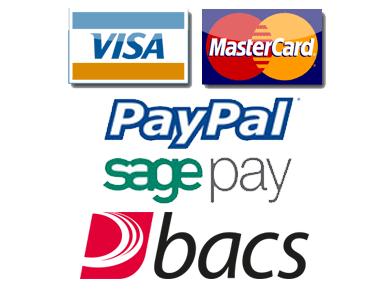 Contact Us
Contact our experienced team
Monday - Friday 9.00am to 5.00pm on
01254 888108
We are always happy to take orders by phone and answer any questions you may have, out of hours calls will be taken by answer phone and we will call you back at the earliest opportunity.
Or you can email or fax 01254 608080 whenever you like!
We are always happy to receive your order by phone or fax, alternatively you may shop online or call into our new showroom to discuss you needs, call us on 01254 888108 (click here for directions).
Fax your orders to: 01254 608080 or post your orders to:
ABC Direct
Lomax Street
Great Harwood
Blackburn
Lancashire
BB6 7DJ
How to find usÖ
From the roundabout at the end of the slip road of junction 6 of the M65 take the exit signposted for Rishton A678.
At the first set of traffic lights (1.5 miles) turn left (at the Bentley / Lotus garage on the left- sign posted Great Harwood B6535).
Follow this road for 1.5 miles and just after the police station on the left hand side, turn right onto Lomax Street (just after the pedestrian crossing).
ABC Direct is located on the right hand side 75 meters down.
Struggling to find us?
Don't panic - just give us a call on 01254 888108 and we'll do our best to guide you in.
Download directions and map here.
Find us with Google Maps here.

Fax and mail order and online orders may be paid for by: MasterCard, Visa, Delta, Switch, Cheque or Postal Order. Please make all cheques payable to: (ABC direct)
Call us on 01254 888108.
If you have problems ordering from us over the internet, please email to let us know.
Your business is important to us, we want you to continue shopping with us so let us know of any problems and we will do what we can to ensure your internet shopping with abcdirect2u.co.uk is hassle free.
Join our mailing list here to stay informed by email of all our special bar and catering equipment offers, new products and cool events.
Vendors
We are happy to take a look at any new products and appreciate you taking the time to email us information. For your convenience and to save us both time! - Itís always preferable in the first instance to send an email outlining brief details of your product to Andrew Sherrington. Alternatively please send any sales literature, wholesale, distributor and trade pricing, and a sample (if possible) to the address above, marked for the attention of Andrew Sherrington.
We look forward to hearing from you!
Regards, the ABC direct team.